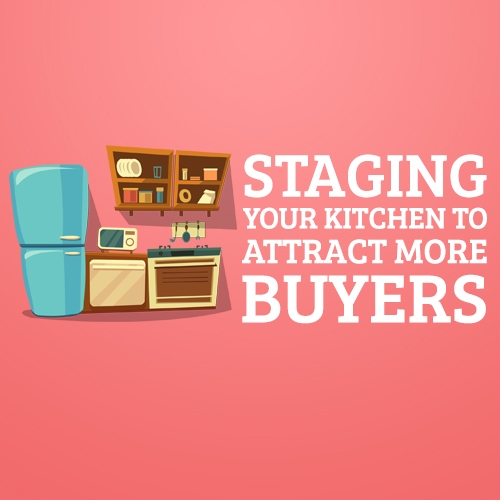 Staging the kitchen can have a huge impact on the portfolio of your home before you decide to place it on the real estate market.
This is because the kitchen is the first thing home buyers usually see and if they find it attractive and modern, they could be willing to pay a price you set or pay a higher price than they would have.
Some people give put much weight into their kitchen that they reserve more than half of their staging budget for kitchen renovation and upgrading.
With a few simple and straightforward changes, you can transform your old kitchen into a modern space with all the desired amenities organized neatly and in place.
So, if you want to sell your home fast and for more, follow these tips to remodel and renovate your kitchen to attract more potential buyers for your home.
Staging the Kitchen
It is always advisable to go step-by-step to make sure you don't miss anything out. And the first step in making your kitchen ready for sale is to clear out the clutter.
In other words, clean up the mess and make space for possible renovations you have in mind. Organizing is one thing that can improve the appearance of any cupboard, rack, drawer or cabinet.
Check out some DIY shelves for your cabinets to neatly place all the bottles, boxes, and cans.
If your kitchen island has a place for seating, make sure you place bar stools or chairs to utilize it. People find it extremely practical to have a kitchen with a seating area.
However, make sure not to overdo this area by placing too many chairs than necessary. You don't want to overcrowd your kitchen, so keep it simple and neat.
Next remove all the unnecessary items from your countertops including knife holders, empty wine bottles, hanging towels, and extra appliances.
A rule of thumb is not to place more than two appliances on the countertop at one time.
Make room for others in the cabinets and properly store them. Once the space has been cleared of all the clutter, place a few decorative items to give a it a nice look.
Finally, wipe the tiles clean, make sure the lighting is adequate and all bulbs are working and then apply a quick coat of paint.
Things to Add
Your kitchen might already have all the necessary decorative stuff, but when you're staging it is important to buy a few extra things for an even fresher look.
Some people find it really useful to have a wall clock in the kitchen. Similarly, wall hangings and paintings that go well with everything else in the kitchen look absolutely appealing.
A few of the other items you can check out include:
Flowers: Fresh or even fake flowers or plants have the ability to lift up a mood and make a room look more inviting.
If you are creative, you could come up with ideas to use flowers in your kitchen without having to spend a dime.
But if you're out of ideas, simply use a vase or a glass bottle for fresh flowers to add color to your kitchen.
Placemats and Wine Glasses: Setting your table before any type of viewings and showings add a great touch.
Don't forget to place a full wine bottle in the middle when somebody is coming over to see your home as a prospective buyer.
A Fruit Basket: Another thing that will add color and flare to your kitchen is a fruit basket or tray with fresh fruits in it.
Wash and wipe clean apples before placing them in the basket. Grapes and pomegranates can be placed separately for a more exotic look.
Use your imagination to come up with more ideas to turn your unassuming little kitchen into something totally attractive. Make sure to get rid of the old useless items to make room for the new ones.
Things to Replace
Kitchen staging is not just about cleaning up the mess but also making sure that the appliances, including the oven and other stainless steel utensils, are all of the same color.
If you have a food processor in black, the oven and microwave in silver, a refrigerator in black, and a juicer in white, it will not appeal to the visitors.
Replace a few things if you think there is a complete mismatch, however, also keep in mind that black and white can easily get along if the entire décor is of the same combination.
Some other things that need replacing are the old dirty hand towels, baking mittens, soap dispensers, and the silverware holder. Make these affordable replacements to give a new and striking look to your kitchen.
You don't have to spend a lot of money on this step. If you think there are many appliances that go along well with one another, simply put them away.
|
0 Comments | Add a Comment